Seafari enjoys working with a team of diverse and interesting people who share a passion in boats, wildlife, tourism and customer service. Everyone is dedicated to ensure Seafari maintains its leading position within the industry providing exceptional marine wildlife tours.
Meet Tony and Jess
Tony and Jess are the driving force behind Seafari Adventures (Oban). Tony has over 50 years of boating/diving experience, the last 40 or so years being on the West Coast of Scotland. His knowledge of the area is extensive. He has taken groups of divers from Rathlin Island in the south to Orkney in the north and St Kilda in the west.
Marine wildlife tourism and education have been a core part of his life. Founding Seafari Adventures (Oban) in 1999, Tony, a retired teacher, and Jess who ran a clinical audit for joint replacements left their day jobs behind when, in 2004, their children completed their schooling.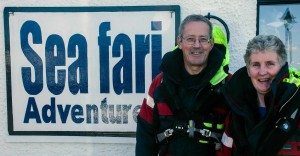 Unable to purchase or have RIBs built to their exact requirements Seafari now operates an extensive workshop. All boats are purpose designed and fitted out in-house during the winter months.
Our Ticket Office
We are the only boat company in the area to operate a fully staffed shore facility. Lead by Carolyn and supported by Jess, Voirrey and Orla, your bookings and enquiries will be efficiently handled. There will be a smiling face to greet you on arrival or a cheery voice on the telephone. If you need assistance or have any questions or concerns please just ask the team. We are all here to help and ensure your marine wildlife experience is enjoyable throughout.
Meet Carolyn
Carolyn joined the Seafari team in 2014 and is our Operations Manager, she is more than likely the person who will respond to your emails, answer the telephone and welcome you when you arrive at the ticket office for your trip. However, as a member of our pool of skippers, every now and again she can be found driving one of our boats to enjoy showing our customers the beauty of the area. Previously Carolyn worked 17 years for the Rank Group as a General Manager before packing a backpack and travelling and volunteering around the world for a year and a half, she then lived in Peru for a year before discovering Easdale and Seafari Adventures.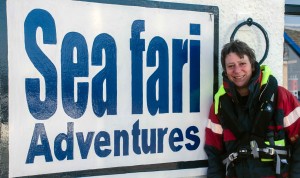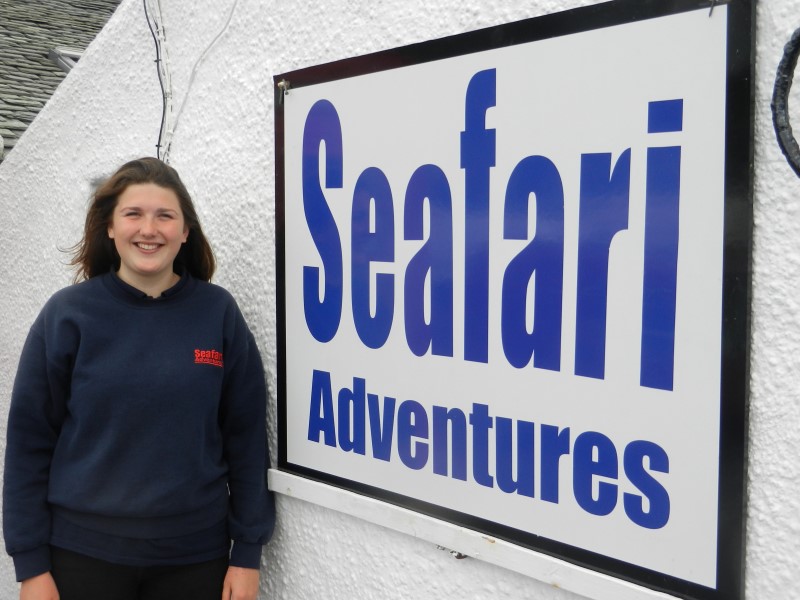 Meet Orla
Orla is a local from the isle of Seil and now studies Geography at Edinburgh University. Orla joined us in 2014 as a wee 13 year old helping out in our shop and has since progressed to be a key member of our shore team during the high season period – she can be found answering emails or the telephone, kitting up at front of house or looking after our customer's dogs!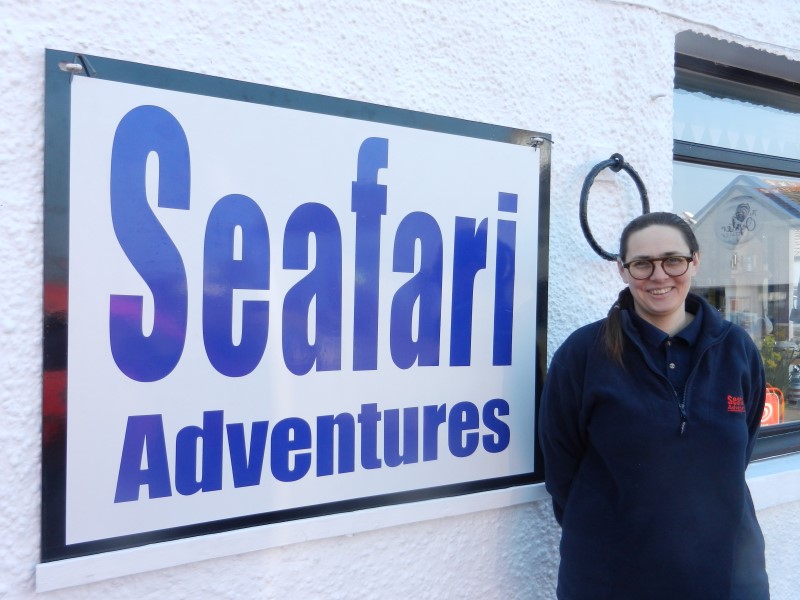 Meet Voirrey
Voirrey is a local who lives on Easdale Island. She joined the shore team in 2018 and works mainly in our ticket office. She can be found answering the phone, welcoming our visitors and answering emails.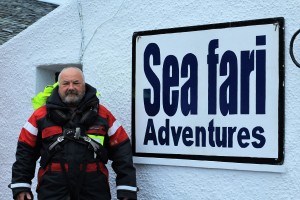 Meet Steve
Steve has been with Seafari Adventures since 2000. Originally from Sheffield, his early years were spent as a semi-professional footballer for Lincoln City, Sheffield United, Stoke City and Derby County. In the mid-90's he moved up to Scotland to pursue his hobby of diving – he has dived all over the west coast of Scotland. Whilst running a communications company in Inverness, Steve bumped into Tony and they were discussing Seafari. Tony said "if you get your certifications come and work for us" – he hasn't looked back since ! About working for Seafari, Steve says "This is not a job, who wouldn't want to take a fast RIB to the Corryvreckan every day ?!"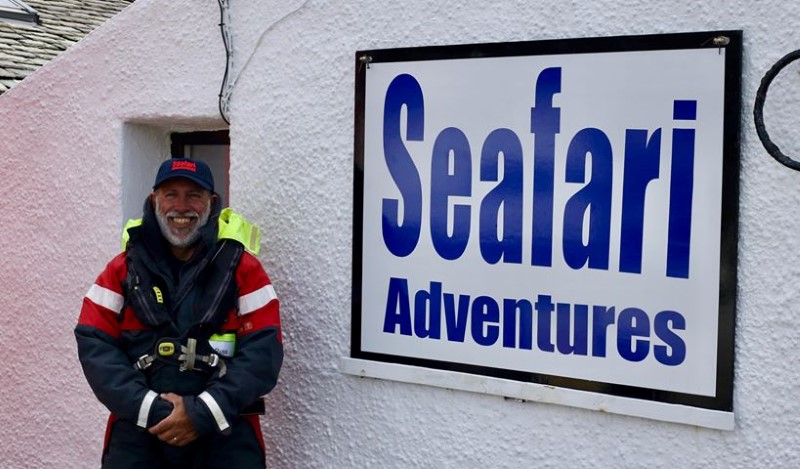 Meet Russ
Russ is an experienced skipper from Arran who is joining us for the busy summer holidays and he is looking forward to taking out our passengers to show them the beauty of the area.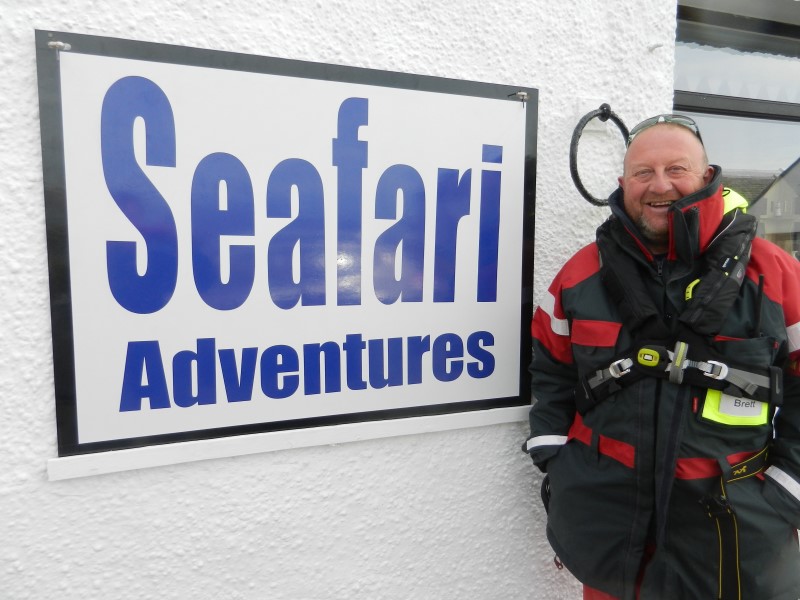 Meet Brett
Brett joined team Seafari in 2018 to help with various building and boat projects and has since completed his skipper qualifications. In 2019 his family joined him to start life anew on the West coast of Scotland.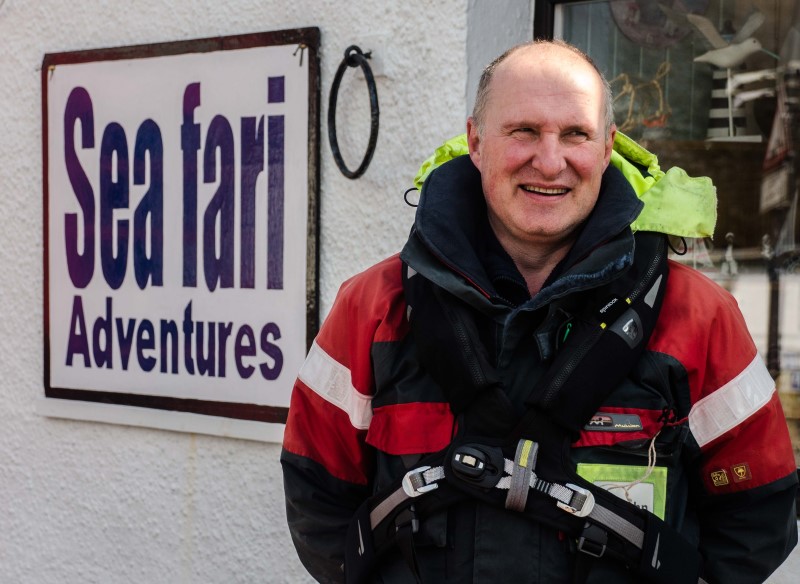 Meet John
John joined the Seafari team as a part time skipper 10 years ago, having spent  some years skippering the Fire Service rescue boat on the river Clyde. Having retired from the Fire Service three years ago he is able to spend more time on the boats here, enjoying both the scenery and wildlife.