Seafari enjoys working with a team of diverse and interesting people who share a passion in boats, wildlife, tourism and customer service. Everyone is dedicated to ensure Seafari maintains its leading position within the industry providing exceptional marine wildlife tours.
Meet Tony and Jess
Tony and Jess are the driving force behind Seafari Adventures (Oban). Tony has over 50 years of boating/diving experience, the last 40 or so years being on the West Coast of Scotland. His knowledge of the area is extensive. He has taken groups of divers from Rathlin Island in the south to Orkney in the north and St Kilda in the west. Marine wildlife tourism and education have been a core part of his life. Founding Seafari Adventures (Oban) in 1999, Tony, a retired teacher, and Jess who ran a clinical audit for joint replacements left their day jobs behind when, in 2004, their children completed their schooling.
Unable to purchase or have RIBs built to their exact requirements Seafari now operates an extensive workshop. All boats are purpose designed and fitted out in-house during the winter months.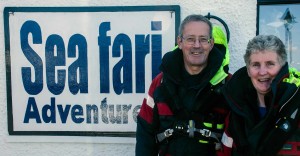 Our Ticket Office
We are the only boat company in the area to operate a fully staffed shore facility. Lead by Carolyn and supported by Jess, Voirrey and Orla, your bookings and enquiries will be efficiently handled. There will be a smiling face to greet you on arrival or a cheery voice on the telephone. If you need assistance or have any questions or concerns please just ask the team. We are all here to help and ensure your marine wildlife experience is enjoyable throughout.
Meet Carolyn
Carolyn joined the Seafari team in 2014 and is our Operations Manager, she is more than likely the person who will respond to your emails, answer the telephone and welcome you when you arrive at the ticket office for your trip. However, as a member of our pool of skippers, every now and again she can be found driving one of our boats to enjoy showing our customers the beauty of the area. Previously Carolyn worked 17 years for the Rank Group as a General Manager before packing a backpack and travelling and volunteering around the world for a year and a half, she then lived in Peru for a year before discovering Easdale and Seafari Adventures.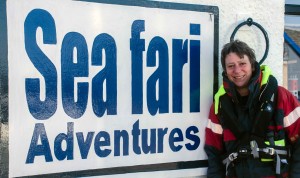 Meet Orla
Orla is a local from the isle of Seil and now studies Geography at Edinburgh University. Orla joined us in 2014 as a wee 13 year old helping out in our shop and has since progressed to be a key member of our shore team during the high season period - she can be found answering emails or the telephone, kitting up at front of house or looking after our customer's dogs !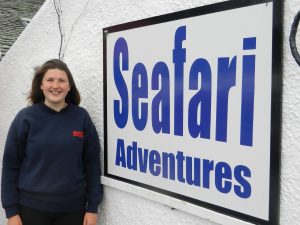 Meet Voirrey
Voirrey is a local who lives on Easdale Island. She joined the shore team in 2018 and works mainly in our ticket office. She can be found answering the phone, welcoming our visitors and answering emails.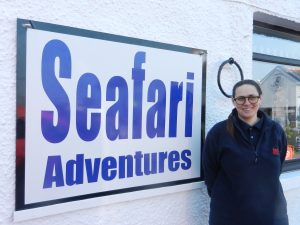 Our Skippers
Skippers are ultimately responsible for your safety. The skipper team, led by Tony has a wealth of experience in RIBs. All skippers have worked with Seafari for many seasons. Tony gained his first powerboat certificate over 40 years ago. He has extensively toured the Scottish West Coast with groups of schoolchildren. Find out more about our skippers below. Iain (Tony and Jess' son) spends most of his time with his own business, Specialised Marine Support, where his boats have been engaged in deploying and recovering the World's Largest Tidal Turbine or supporting inter island cable laying.
Our occasional skippers are :
Pete Green, a retired fireman who was poached from Oban to help set up the water response unit for Derbyshire Fire and Rescue. He is currently a Swift Water Rescue Instructor.
Pete Hanger, an RYA Powerboat Instructor who travels the world as a safety officer/diver support on the Formula 1 Powerboat circuit. Pete Hanger is our engineer during boat builds.
Carolyn - our Operations Manager (see above) !
Meet Steve
Steve has been with Seafari Adventures since 2000. Originally from Sheffield, his early years were spent as a semi-professional footballer for Lincoln City, Sheffield United, Stoke City and Derby County. In the mid-90's he moved up to Scotland to pursue his hobby of diving - he has dived all over the west coast of Scotland. Whilst running a communications company in Inverness, Steve bumped into Tony and they were discussing Seafari. Tony said "if you get your certifications come and work for us" - he hasn't looked back since ! About working for Seafari, Steve says "This is not a job, who wouldn't want to take a fast RIB to the Corryvreckan every day ?!"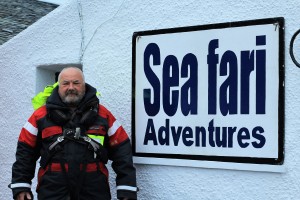 Meet John
John joined the Seafari team as a part time skipper 10 years ago, having spent  some years skippering the Fire Service rescue boat on the river Clyde. Having retired from the Fire Service three years ago he is able to spend more time on the boats here, enjoying both the scenery and wildlife.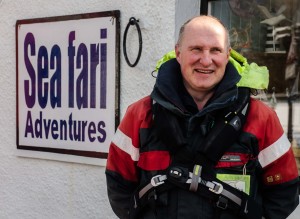 Meet Brett
Brett joined team Seafari in 2018 to help with various building and boat projects and has since completed his skipper qualifications. In 2019 his family joined him to start life anew on the West coast of Scotland.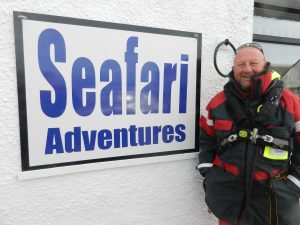 Meet Russ
Russ is an experienced skipper from Arran who is joining us for the busy summer holidays and he is looking forward to taking out our passengers to show them the beauty of the area.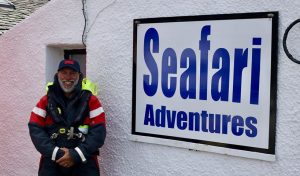 Our Wildlife Guides/Crew
Meet Tasha
Hi my name is Tasha and I'm excited for this season with Seafari. I previously worked on whale watching boats in Australia and the Canary Islands so my speciality is the marine mammals but all of the coastal species I've seen  along the Scottish coast have been fantastic.
I have a degree in marine vertebrate zoology from Bangor University which is where I first played ultimate Frisbee and fell in love with the sport.
I can't wait to show you all the fantastic wildlife of our Scottish islands.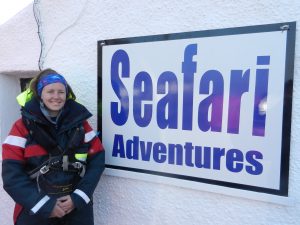 Meet James
Hi, I'm James from Cumbria, a new guide and crew member for 2019.
Before joining Seafari, I volunteered with a number of wildlife
conservation organisations and studied a master's degree in Biosciences at
Durham University. I then spent autumn and winter as a trainee ranger in
Devon, where I looked after a large guillemot colony and a popular feeding
area for porpoises, gannets and common dolphins. Finally, the lure of
working alongside otters, eagles and more lured me to Easdale.
I love the outdoors and spend my spare time fell running, hiking, cycling
and open water swimming. If on a tour you see some nutcase swimming the
Corryvreckan, that'll be me.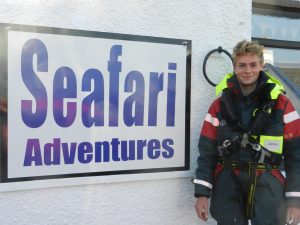 Meet Tom
Hello, my name is Tom, and I am joining Seafari for the 2019 season.
I have spent the last 18 months on a remote Indian ocean atoll working on
many seabirds, turtles, coral reefs, marine mammals and more but I'm
looking forward to re-adapting to the climate and continuing to work in a
picturesque environment! After my degree in Ecology I then went on to work
as a field biologist in Mauritius and an expedition leader to Borneo. I'm
also an experienced diver which has driven my interest in the marine world.
I'm really looking forward to getting out on the RIBs, and seeing the
famous Hebridean scenery and wildlife with you!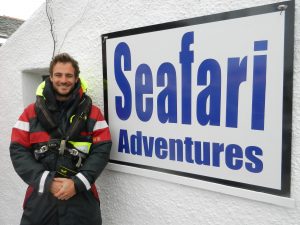 Meet Roy
Hi, I'm Roy, I'm looking forward to my 3rd season with Seafari.
I'm from Somerset and have spent my life working outdoors in many areas from grass cutting to the Environment Agency. I have always had a passion for wildlife especially marine life. I am looking forward to learning new skills and improve my knowledge in this unique area of Scotland.
I'm looking forward to meeting you out on the boats and sharing this wonderful part of the world with you.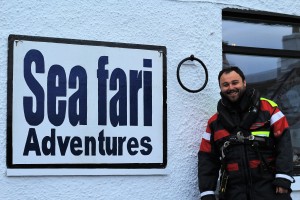 Meet Charlie
Charlie, a bio-scientist from Glasgow, joined us at the beginning of July and is here to help us out during the busy summer months - he is enjoying being out on the boats and showing our customers the beauty of this area.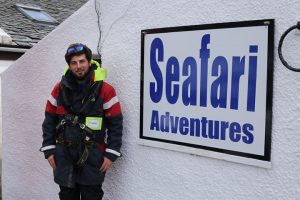 Our Kit Trailer
You will be greeted by one of our crew or Front of House staff. Particularly in the summer season our Front of House team will ensure you are well equipped prior to departure. They offer to look after your dog (with some advance notice please !), will provide information on what has recently been seen, other tourism advice on what to see and do in the area, check you are wearing enough clothes for your trip, ensure your lifejacket is correctly fitted and, most importantly, that you step aboard the correct boat for your tour.
The team is overseen by Jess but will include crew on a day off the water, a spare hand from the ticket office (they like to escape for some fresh air) or local students who seek a summer job. In 2019 we are looking forward to welcoming back Orla who joins us for her 6th season and local students Kieran and Duncan plus Russ' wife Elspeth (and the dog Ailsa !) will also be helping us out - all work as part of the Front of House / Ticket Office team.