Seafari enjoys working with a team of diverse and interesting people who share a passion in boats, wildlife, tourism and customer service. Everyone is dedicated to ensure Seafari maintains its leading position within the industry providing exceptional marine wildlife tours.
Meet Tony and Jess
Tony and Jess are the driving force behind Seafari Adventures (Oban). Tony has 50 years of boating/diving experience, the last 40 or so years being on the West Coast of Scotland. His knowledge of the area is extensive. He took groups of divers from Rathlin Island in the south to Orkney in the north and St Kilda in the west. Marine wildlife tourism and education have been a core part of his background. Founding Seafari Adventures (Oban) in 1999, Tony, a retired teacher, and Jess who ran a clinical audit for joint replacements left their day jobs behind when, in 2004, their children completed their schooling.
Unable to purchase or have RIBs built to their exact requirements Seafari now operates an extensive workshop. All boats are purpose designed and fitted out in house during the winter months.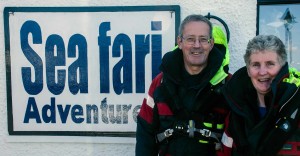 Our Ticket Office
We are the only boat company in the area to operate a fully staffed shore facility. Lead by Carolyn and supported by Jess, Voirrey and Orla, your bookings and enquiries will be efficiently handled. There will be a smiling face to greet you on arrival or a cheery voice on the telephone. If you need assistance or have any questions or concerns please just ask the team. We are all here to help and ensure your marine wildlife experience is enjoyable throughout.
Meet Carolyn
Carolyn joined the Seafari team in 2014 and is our Operations Manager, she is more than likely the person who will respond to your emails, answer the telephone and welcome you when you arrive at the ticket office for your trip. However, as a member of our pool of skippers, every now and again she can be found driving one of our boats to enjoy showing our customers the beauty of the area. Previously Carolyn worked 17 years for the Rank Group as a General Manager before packing a backpack and travelling and volunteering around the world for a year and a half, she then lived in Peru for a year before discovering Easdale and Seafari Adventures.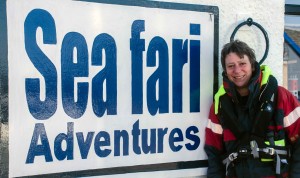 Our Skippers
Skippers are ultimately responsible for your safety. The skipper team, led by Tony has a wealth of experience in RIBs. All skippers have worked with Seafari for many seasons. Tony gained his first powerboat certificate over 40 years ago. He has extensively toured the Scottish West Coast with groups of schoolchildren. Find out more about our skippers below. Iain (Tony and Jess' son) spends most of his time with his own business, Specialised Marine Support, where his boats have been engaged in deploying and recovering the World's Largest Tidal Turbine or supporting inter island cable laying.
Our occasional skippers are :
Pete Green, a retired fireman who was poached from Oban to help set up the water response unit for Derbyshire Fire and Rescue. He is currently a Swift Water Rescue Instructor.
Pete Hanger, an RYA Powerboat Instructor who travels the world as a safety officer/diver support on the Formula 1 Powerboat circuit. Pete Hanger is our engineer during boat builds.
Carolyn - our Operations Manager (see above) !
Meet Steve
Steve has been with Seafari Adventures since 2000. Originally from Sheffield, his early years were spent as a semi-professional footballer for Lincoln City, Sheffield United, Stoke City and Derby County. In the mid-90's he moved up to Scotland to pursue his hobby of diving - he has dived all over the west coast of Scotland. Whilst running a communications company in Inverness, Steve bumped into Tony and they were discussing Seafari. Tony said "if you get your certifications come and work for us" - he hasn't looked back since ! About working for Seafari, Steve says "This is not a job, who wouldn't want to take a fast RIB to the Corryvreckan every day ?!"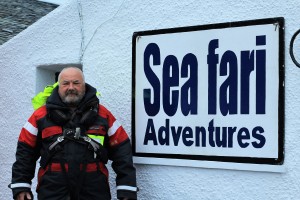 Our Wildlife Guides/Crew
Meet Nick
Greetings, my name is Nick and I have the honour of being one of your crew/guides for this season at Seafari.
I grew up in Orkney, Scotland, and I have previously worked as a tour guide both in my home county of Orkney and in Edinburgh. When I saw the opportunity to work with wildlife, with tourists, and at sea, I jumped at the chance of working with Seafari.
I studied Countryside Management at college, and I greatly enjoy the outdoors and the natural world. Another one of my passions is history (of which there is no shortage around here), so if you are on one of my tours I will be happy to explain some aspects of our local history to you as well.
Also, if you happen to speak German, dann kann ich Ihnen (fast) alles auf Deutsch erklären (das hoffe ich zumindest).
I look forward to meeting you and welcoming you all very soon to Seafari Adventures.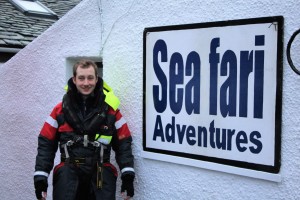 Meet Claire
Hi, I'm Claire, and I'm returning to Seafari Adventures as a crew member for 2018 after last year.
My love of the sea and marine wildlife started when I first learnt to scuba dive and I spent a few years working as a scuba instructor in Egypt.
I am an outdoor enthusiast and on my days off I can usually be found sea kayaking, munro bagging, trail running, cycling or wild swimming. I even hope to swim the Corryvreckan before the end of the season!
I'm looking forward to a busy season and all the opportunities to see the amazing wildlife of the region. Hope to see you on a trip!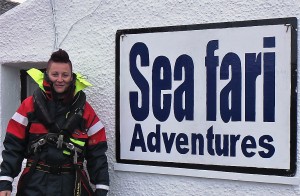 Meet Roy
Hi, I'm Roy, crew member for 2018, returning for a second season after 2017.
I'm from Somerset and have spent my life working outdoors in many areas from grass cutting to the Environment Agency. I have always had a passion for wildlife especially marine life. I am looking forward to learning new skills and improve my knowledge in this unique area of Scotland.
I'm looking forward to meeting you out on the boats and sharing this wonderful part of the world with you.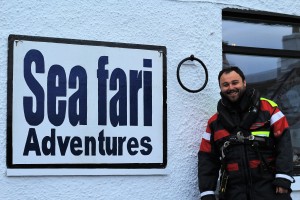 Meet Catherine
Hi there, my name is Catherine, and this is my first season with Seafari Adventures. For the last year I have been working on a conservation project with sharks, turtles and giant tortoises in the Seychelles. Prior to this I completed degrees in Ecology then Marine Systems and Policies. I find coastal habitats and islands fascinating, and I am delighted to be working in such an amazing part of my home country. I love being outdoors and on the water, so I'm looking forward to meeting you and sharing my enthusiasm!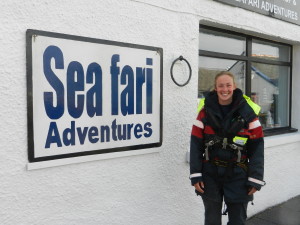 Meet Kilian
Hi, I'm Kilian, the new crew member for the 2018 season. I grew up in France and Ireland as well as Japan.
I am passionate about wildlife and conservation. I studied animal biology and conservation biology at University in England. Moreover I love being at sea and on boats, I am a huge scuba-diving aficionado, so naturally when I was offered a position at Seafari as a Wildlife guide, I jumped on the opportunity. Looking forward to having you on my tour to teach you all about the wonderful wildlife and natural history of the Inner Hebrides on the West Coast of Scotland.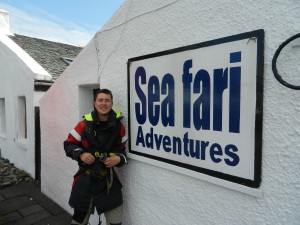 Our Kit Trailer
You will be greeted by one of our crew or Front of House staff. Particularly in the summer season our Front of House team will ensure you are well equipped prior to departure. They offer to look after your dog (with some advance notice please !), will provide information on what has recently been seen, other tourism advice on what to see and do in the area, check you are wearing enough clothes for your trip, ensure your lifejacket is correctly fitted and, most importantly, that you step aboard the correct boat for your tour.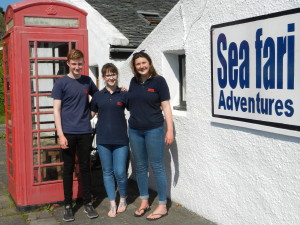 The team is overseen by Jess but will include crew on a day off the water, a spare hand from the ticket office (they like to escape for some fresh air) or local students who seek a summer job. In 2019 we are looking forward to welcoming back Orla who joins us for her 5th season and Ben joins us for his 4th season  - all work as part of the Front of House / Ticket Office team.