We thought you may like to know what some of our "old" team members are doing now – what have they been up to since they left Seafari ? This week we are featuring Chris Lickley …
CHRIS LICKLEY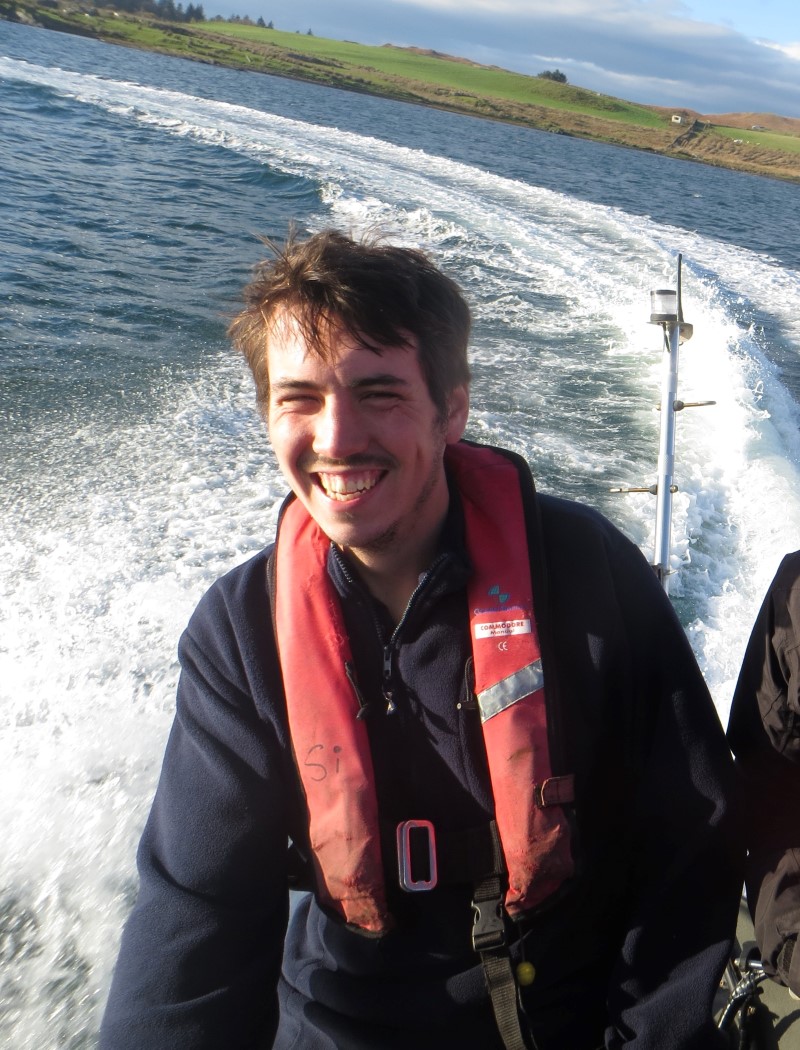 Chris enjoying being out on the water !
What season did you work for Seafari Adventures ?
2014
In what capacity did you work for Seafari Adventures ?
Boat crew / wildlife guide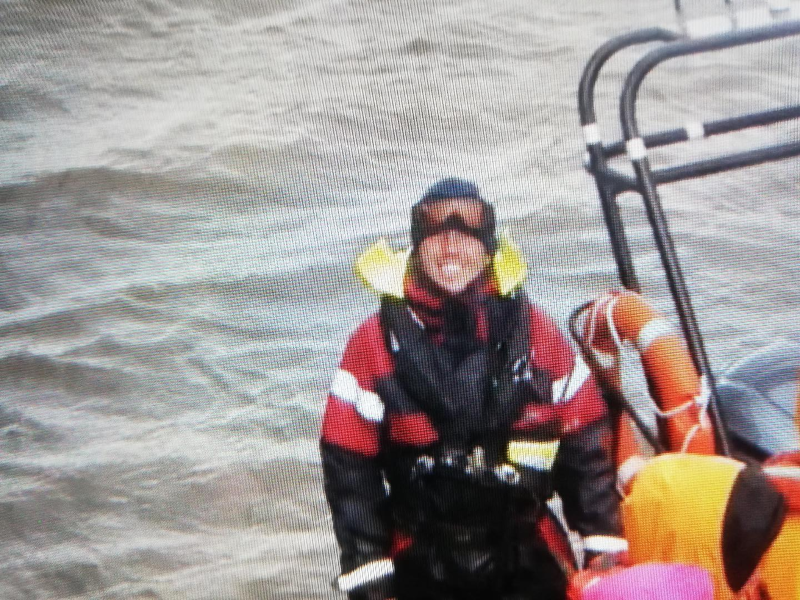 Poor quality photo of Chris on board one of our open RIBs !
What is your favourite memory of your time with Seafari ?
The day when a super-pod of common dolphins (around 500) travelled up the sound between Easdale and Insh. It was absolutely stunning, the wildlife tours on that day were a bit different to usual but I don't think anybody minded! [Remember that day, seeing all the boats from every operator around heading north past Easdale ! – Ed]
Not work related was probably a road-trip that myself and fellow crew member, Ben, planned to go and hunt for red squirrels. We found 2 squirrels and a golden eagle eventually but not after a lot of trekking around. At one point we accidentally wandered into someone's garden and got chased by an angry dog, both of us running away like naughty schoolboys !
Did you ever fall in ? If so, details please !
Yes, last day of the summer season, refuelling boats at the end of the day on the Easdale pontoon. Mis-step walking around the bow and into the drink. Cue to radio from Tony "Celtic Chris, are you done yet?" as he rounds the harbour entrance and laughs with a knowing 'We've all been there!". After getting showered and changed I was then late to the planned end of season meal at the Oyster bar, when I arrived they were all grinning, they knew… [Classic ! – Ed]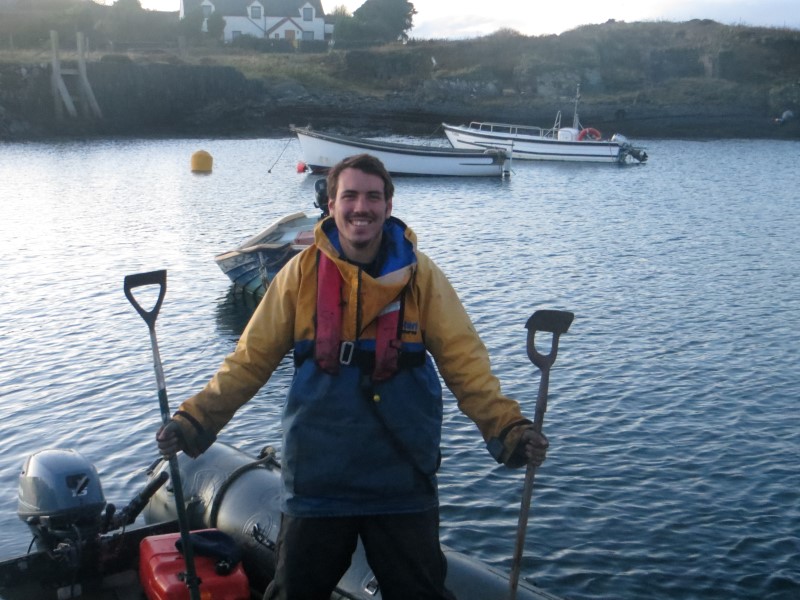 Chris enjoying his work, even if it involves "hoe-ing" !
Favourite place on Easdale island ?
The Puffer, 100%, and no not because of all the booze! The scenery and wildlife around the island are stunning and will always stay with me, but above all of that is the real sense of community on Easdale and The Puffer embodies that. I've seldom felt so welcomed to a place as I was there.
Favourite bit of the Corryvreckan Wildlife Tour ?
The first of the rocky outcrops after leaving Fladda lighthouse, the ones normally covered in resting common seals. I found it was usually the point where the 'Wildlife' part of the tour started and where the customers would get excited about what they could find. That and Steve telling his 'why do seals blow bubbles?' story …. It never gets old !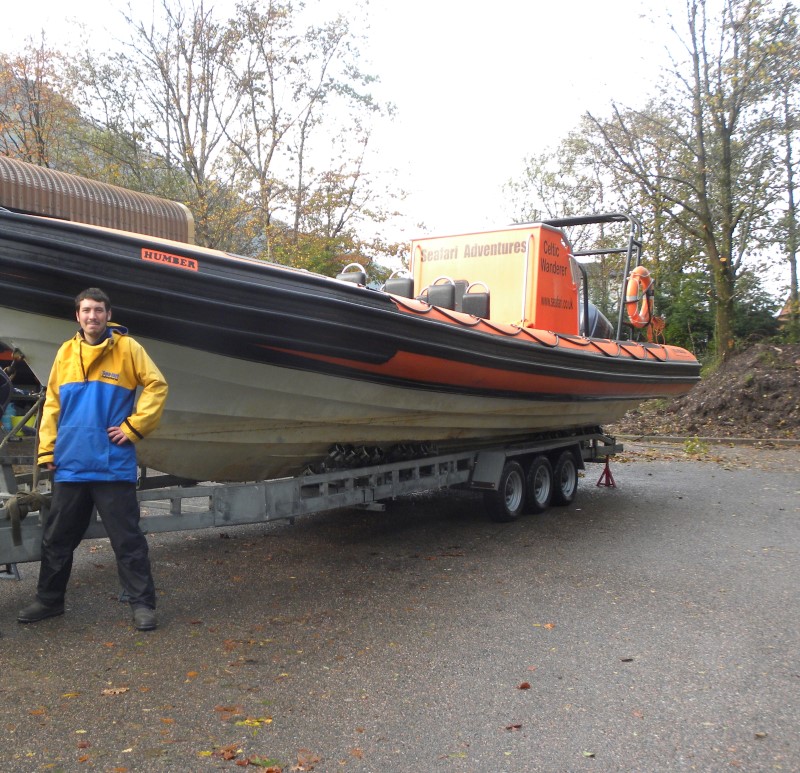 Chris up at our workshop in Ballachulish.
So, what have you been up to since leaving Seafari ?
When I left Seafari I was at an interesting life decision point of going back into postdoctoral academia or pursuing a more practical conservation minded career. I moved back to sunny Southampton and volunteered with a local woodland management group whilst I tried to figure that out. After a few months I fell into a site wardening role, then assistant ranger roles and I've never really looked back, working for and with a number of wildlife NGOs and local authorities. When I look back, I think it highly likely that my Seafari experience played a subconscious role in that decision, a 9-5 office job never particularly appealed after my time on Easdale.
What are you currently doing ?
I currently work as a Ranger for the South Downs National Park Authority. Largely my role is outdoor and practical, completing conservation management works such as tree felling and meadow creation. I'm also in regular contact with the huge number of landowners across my 'patch', most of whom are arable or dairy farmers. I work with them to develop schemes to keep their businesses profitable whilst making space for nature.
In any normal year my summers would involve running numerous public engagement events, telling the general public all about the wildlife and cultural history of the South Downs. It's not that far removed from my Seafari life, just a bit drier and less windy!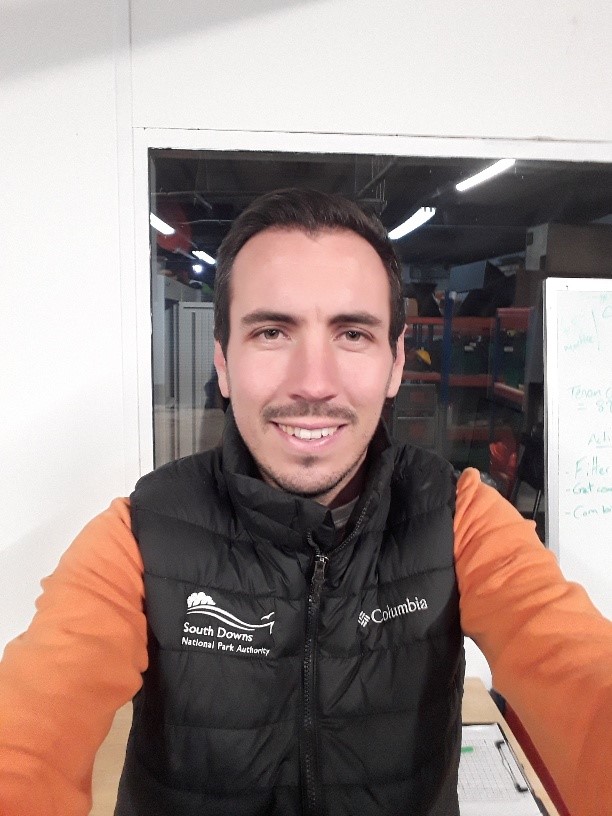 Chris at work now working for South Downs National Park.
Many thanks to Chris for taking the time to catch up with us – keep an eye on this blog for your next "old crew" update !