We thought you may like to know what some of our "old" team members are doing now – what have they been up to since they left Seafari ? This week we are featuring Alastair Judkins …
ALASTAIR JUDKINS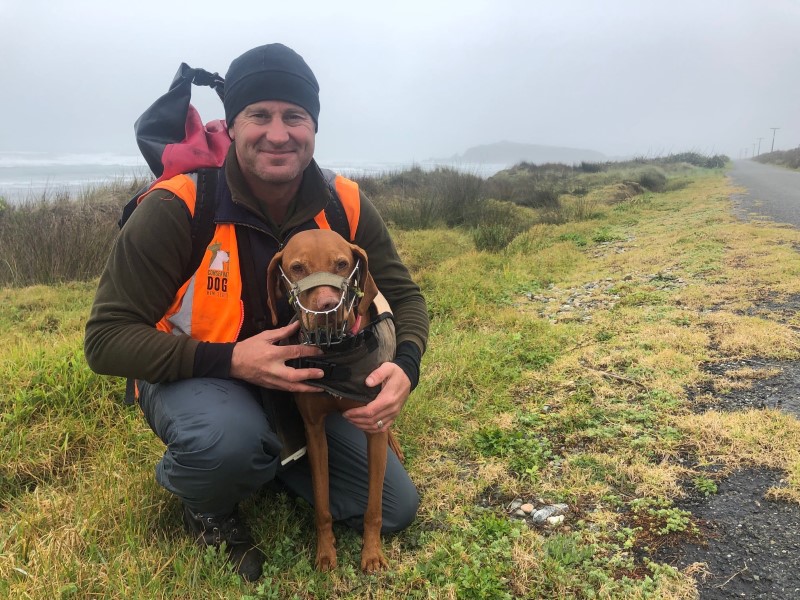 Alastair with conservation dog in New Zealand.
What season did you work for Seafari Adventures ?
I worked in the summers of 2001 and 2002
In what capacity did you work for Seafari Adventures ?
I was a wildlife guide and got some training and qualifications to start skippering.
What is your favourite memory of your time with Seafari ?
Favourite memories were winning the 2002 stone skimming championship, having a baby minke whale bonding with the boat in the Corryvreckan and the steaks at the Inshaig [That's a looooong time ago ! – Ed]
Did you ever fall in ? If so, details please !
Never fell in but there were a few shakey pontoon runs in there … !
Favourite place on Easdale island ?
Favourite place was the Puffer bar, and the quarry where we jumped in off a cliff.
Favourite bit of the Corryvreckan Wildlife Tour ?
Favourite place on tour was the Corryvreckan on both a whirpool day and a calm day where I loved the challenge of spotting porpoise and minkes.
So, what have you been up to since leaving Seafari ?
After Scotland I returned to New Zealand and became a skipper for a dolphin swimming and pelagic birdwatching company in Kaikoura. I went to Madagascar where I assisted my wife in researching lemurs in a rainforest, co-founded a conservation and research institute in Kaikoura studying penguins, dolphins, whales and fur seals.
What are you currently doing ?
I have been skippering/guiding a fur seal swimming tour for the last 5 years.
I have a conservation dog which is a penguin detection dog which I use to help other conservation groups, city councils, construction and development companies locate penguins to better protect them.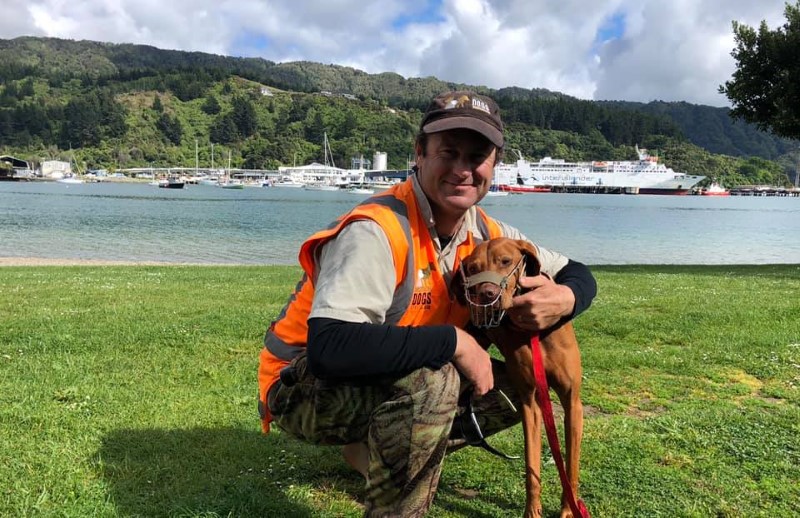 Alastair with his penguin detection dog !
Many thanks to Alastair for taking the time to catch up with us – keep an eye on this blog for your next "old crew" update !